A wage sheet is simply a collection of approved time entries that have been grouped together for payment. Once they are in a wage sheet then the hours are locked and no editing can be done.
Wages sheets can only be viewed by those with explicitly given access to a wage sheet.
Creating a Wage Sheet from approved time entries
The most efficient way to process time entries, pay items and expenses is to simply create a wage sheet from all of the approved time entries. You can do this from the View Wage sheets page under Pay. There is a button in the top right called 'Create Wage Sheet'.
It will display a set of options that allow you to choose venues, a cut of time for shifts and employee contracts.
The time period option is normally used for paying staff for shifts up to the end of a period (week, fortnight or month) several days after the end of the period and not including anything worked since then. This process is designed to include all approved time entries up to the cut of time so that nothing is missed accidentally.
It's important to note that midnight is the start of the day so 12:00am on Friday 10th of Jan is midnight between Thursday and Friday.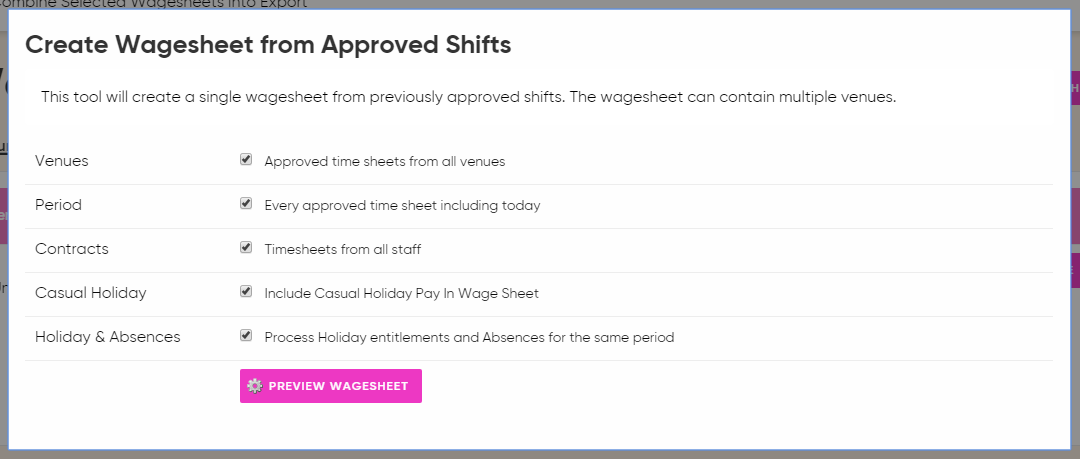 The contracts filter allows you to choose certain staff members to be included. This allows you to pay some staff weekly, some fortnightly and some monthly (or any combination).
The casual holiday option allows you to split automatic holiday pay into a different wage sheet. This allows the holiday pay to be kept back and paid on a different schedule. You can either create a new wage sheet or assign the holiday pay to another holiday wage sheet.
You can now choose to select all or select none when selecting venues/contracts during the create wage sheet popup window.
Unapproved Times Warning
If there are any unapproved time entries that are in the selected venues, time period and contracts that will not be included in the wage sheet then a warning will be displayed.
The warning will tell you how many shifts are unapproved and in which venue.
You can still continue and create the wage sheet; it will simply not include these time entries. They will be included in the next wage sheet once they have been approved.
Long Duration Time Entry Warning
The system will automatically warn if a time entry is over a set number of hours. The default is 12 hours but this can be configured in the global settings.
Any time entry this long or longer will be displayed so it can be checked.
Viewing Wage sheets
You can view all previous wage sheets under Pay > View Wage Sheets. You can see the overall information about that wage sheet, including the date created, number of shifts involved, hours worked, net & holiday pay (if enabled) and the total wage value.
These can be downloaded or viewed within the browser. Within the "Actions" area of the menu, you can also combine multiple wage sheets into a single export. Various formats are available, you can enable each format under the Global Settings.
On the Current Wage Sheets tab, you can download single wage sheets, merge wage sheets for download and even undo a wage sheet. Undoing a wage sheet will return all of the wages back for final approval. Automatic holidays will be removed and the wage sheet record will vanish.
This will allow you to then create a new wage sheet once any adjustments or corrections have been made. You will receive updates on what the system is processing when previewing and creating wage sheets.
Once you are happy with the wage sheet and you have processed your pay on your payroll software then you can "archive" the wage sheet. This will move it to the archived tab so you know it is complete and finished.

Please note that Archived wage sheets cannot be merged together or undone. They are for historical records only.
Clicking the View button shows you the particular wage sheet in more detail. From here you can then see a breakdown of each staff member's pay by role or by shift.