In our previous video we introduced managing staff absences but in this video we will go through and discuss how you can create specific Absence Policies to be in line with company policy.
In detail we will go over:
How to create an absence policy and the options you have to customise these.
Explaining Entitlement Levels, Pay items and Phases and when and how to use them
And how to attach an absence policy to your contract.
These are really useful tools for reporting absences and getting the system to autogenerate the payment.
To get started setting up an Absence Policy you will want to go to System > Absence & Breaks > Absence Policies.
Step 1
Absence Policy Options
To begin with you start by clicking 'Add Absence Policy'. From here you can begin customising the fields available. The options you will see include:
Reason Title
Allow Self Requests
Can be Overwritten by other Requests - override absence it means you can get rid of the existing absence by replacing it with a newer absence reason
Use within Bradford Factor -

connect to your Bradford Factor polices here

Block Shifts During Absence -

You might have specific roles that if a staff member is absent you might want those shifts blocked off so no one else can take them, especially with certain types of absences.

Planner Colour
Planner Texture
Privacy Mode -

Some Absence Reasons are more sensitive than others so you might choose to enable this and hide true reasons completely so that only absence managers can see the true absence reason.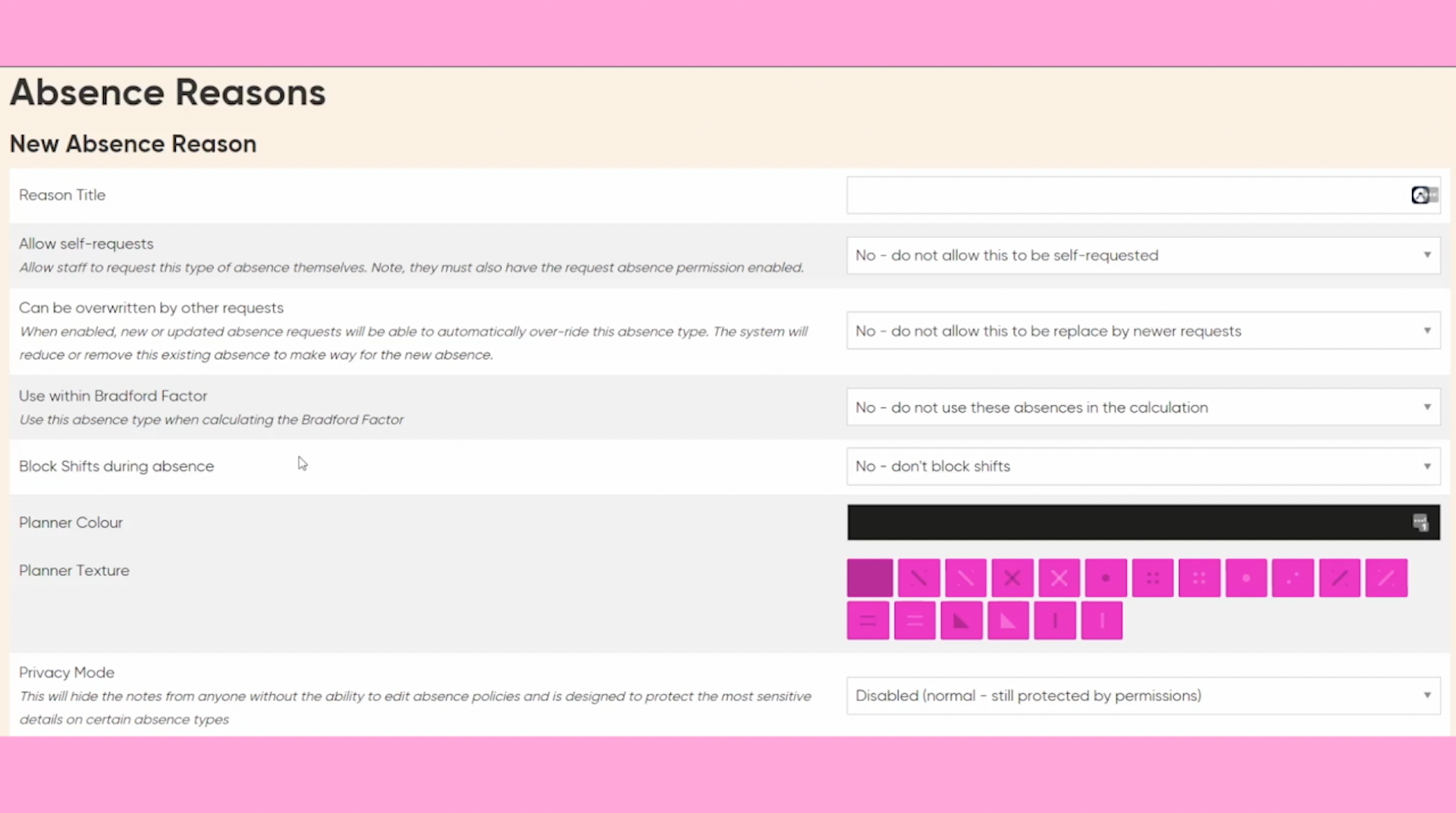 Step 2
Creating an Absence Policy for Statutory Sick Pay
Once a policy set is created you can go in and edit you can see all the different policy entries here. You can see the different types of policies that you can add - for example if it was for SSP it will go under Sickness. If the policy is already set up you can just go in and edit this but if not already set up, you would go to add policy.
Entitlement Levels
To explain the different areas of absence policies; 'entitlement level' would be a part of a service phase.
As a company you can decide what amount of absence pay a staff member receives depending on how long they have worked with the company (You can also adjust this amount to depend on the type of absence).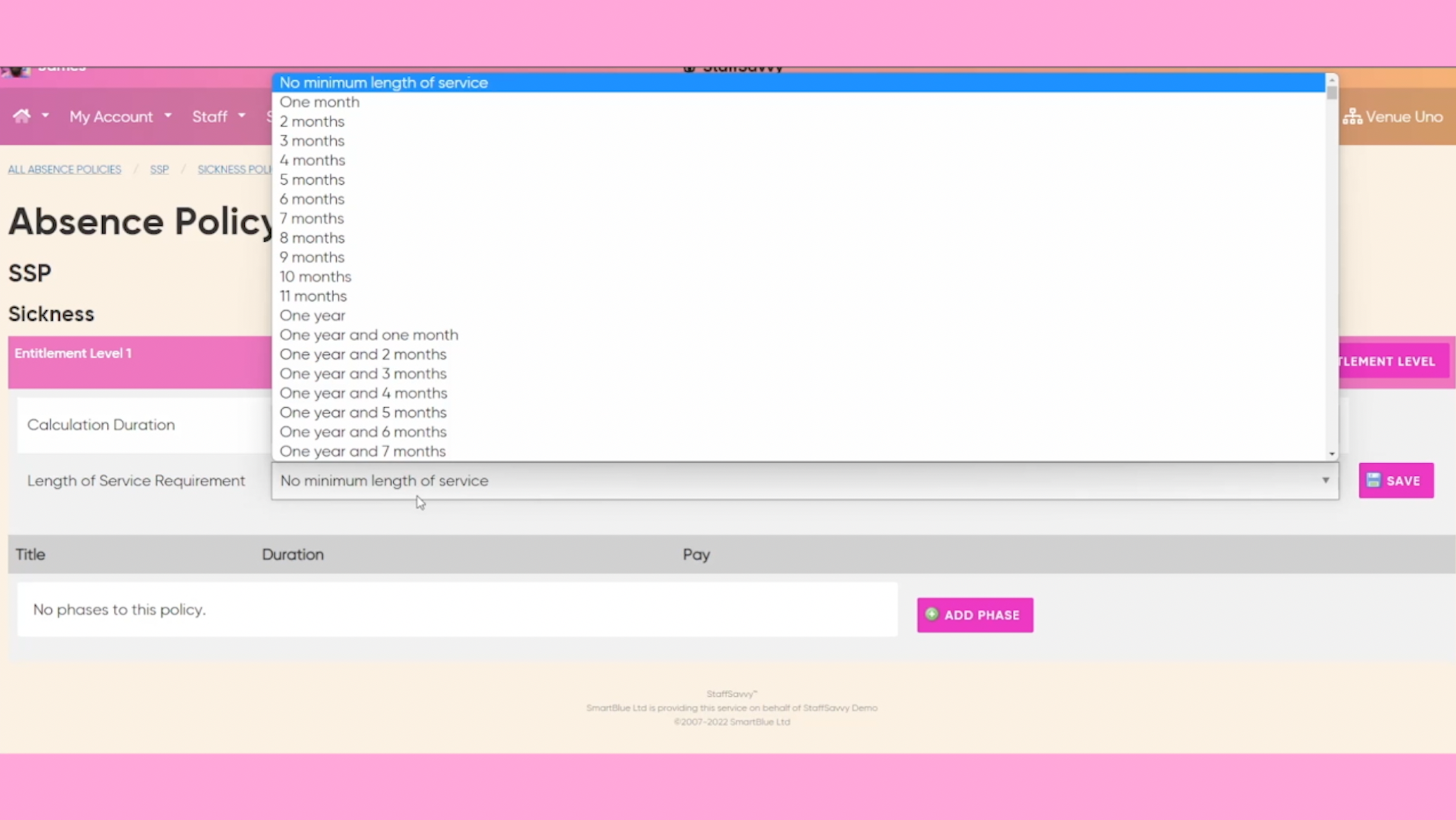 This means that by specifying the threshold level of a staff member's length of service it would affect absence pay. For example if you have one length of service, you might decide they need no minimum length of service to receive sick pay, or you might set the threshold at 6 months.
The entitlement level also includes the rate of pay they would receive once the length of service threshold is met. These options combined make each entitlement level unique. Because somebody might get 50% pay if they have been working for the company for six months and then it might be that they only receive 100% pay after one year of service. That would be an entitlement level because it's dependant on different lengths of services.
For SSP so this is going to be calculated from the duration of the phases. You can have multiple phases in a year which you can do with SSP.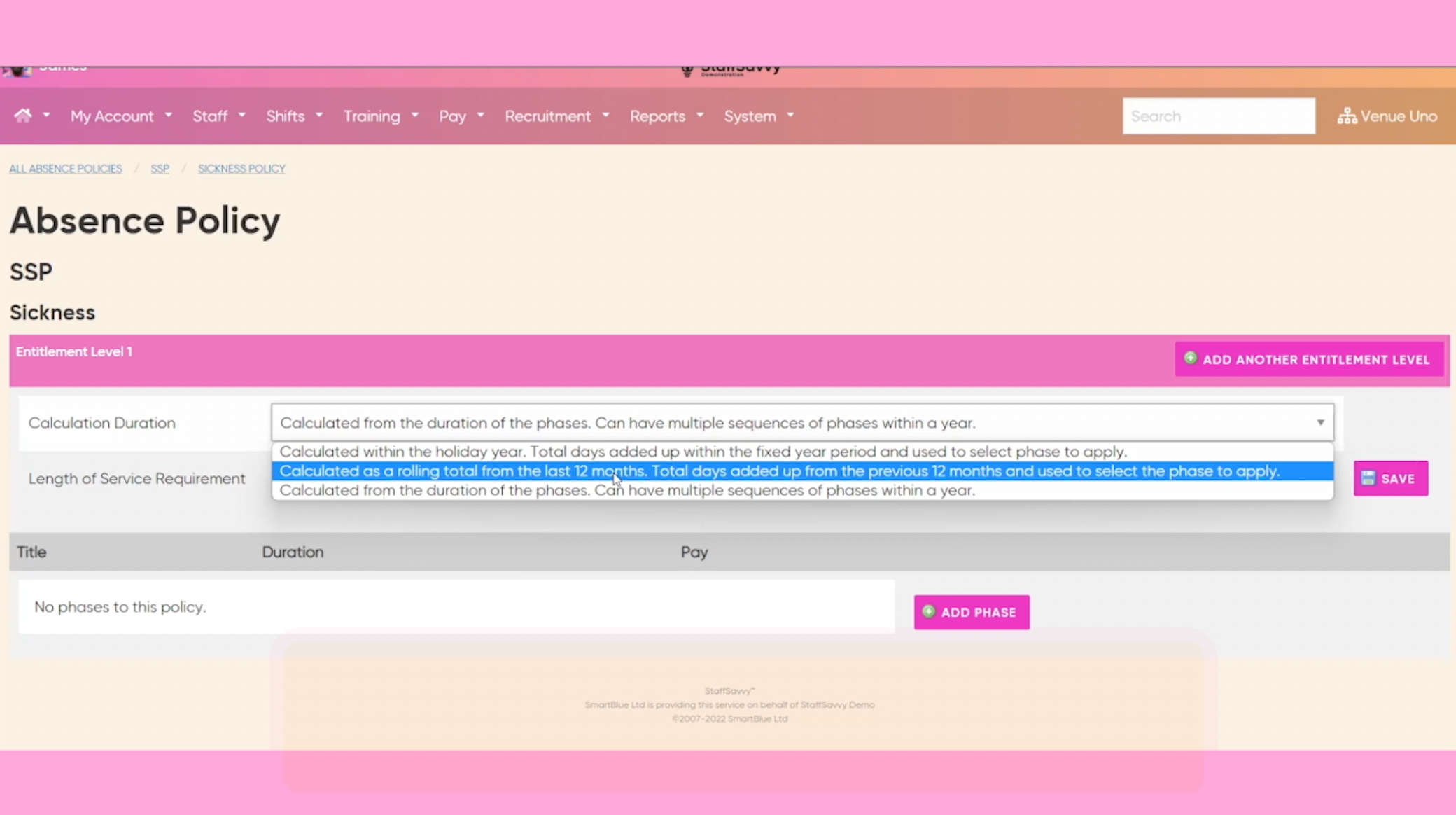 If you have certain days absence policy, which would be set over the year, you would use calculate within the holiday year or you can have as rolling total over the last 12 months. You can decide what kind of allowance you have here. For SSP this is going to be calculated from the phases. Then you input the phases as to what SSP would be.
Length of service requirement is going to be no minimum length requirement as this is the standard SSP policy which doesn't require a kind of service. But if you do want to put that in, say after one year you get a certain entitlement, or after 6 months, that would be your options and that can go all the way up to 50 years on StaffSavvy if you need it to.
Step 3
Putting in a Phase
So once you've put in the Length of Service you now need to decide what else to put into your phase. For this example I'm going to add in my first phase for SSP. The title is going to be SSP waiting days, because in order to get SSP there first needs to be waiting days, which will be unpaid.
Phase Options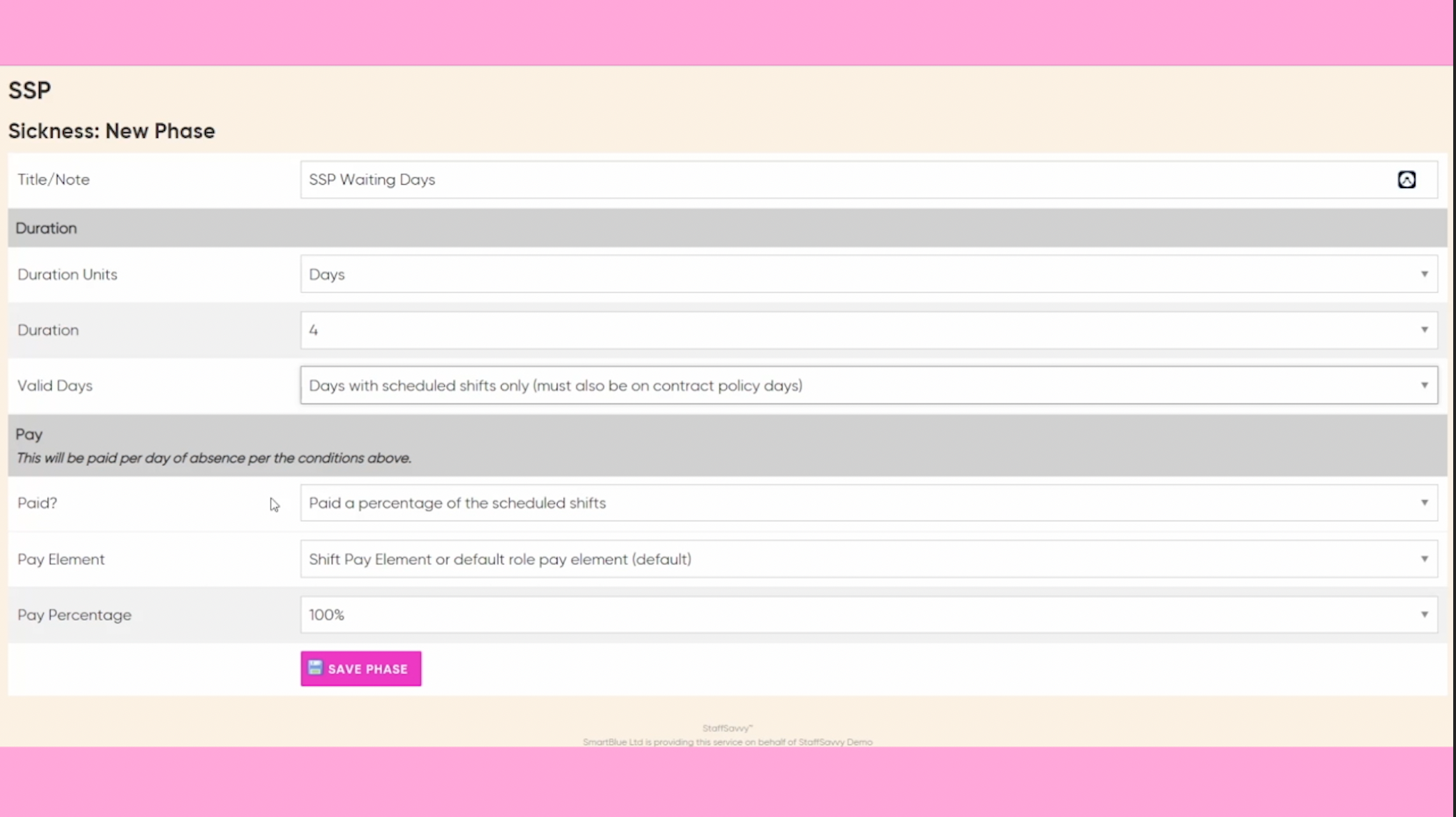 Duration
Firstly, you have to let the system to know for how many days the period of absence this policy will last for (With SSP the length of time is 4 days the person won't get paid).
You can also specify which days are valid or invalid in terms of whether they should be included in the policy.
Fore example if you have people working on every day, then everyday would be marked as valid. However, in this case of casual staff you might want to use either expected work days only or days staff have scheduled shifts.
This can be input into your contract policy days, and in the absence policy in your contract which but for this example we are going to use days with scheduled shifts only. So it'll be four days of scheduled shifts and it would go off and be paid.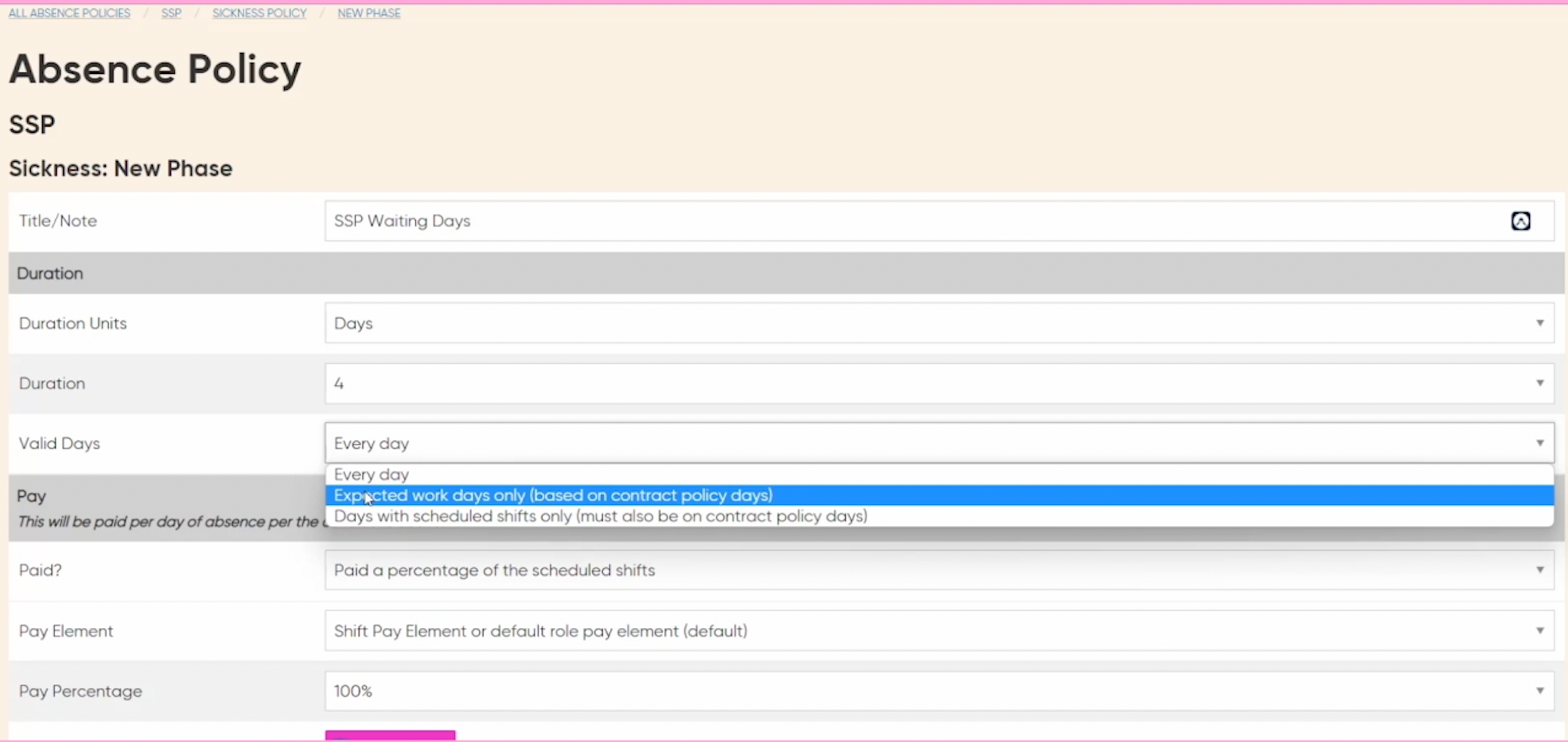 Pay
You can then decide what they'll be paid here under the Pay tab. You can say they will be paid a percentage of scheduled shifts; it could be unpaid; paid a fixed pay item; or a normal day of work.
When you do a normal day of work it could be that you do it at 50% or 100% if you're doing half pay or full pay. In this section because its a waiting day of four days I'm going to leave it as unpaid then save it off.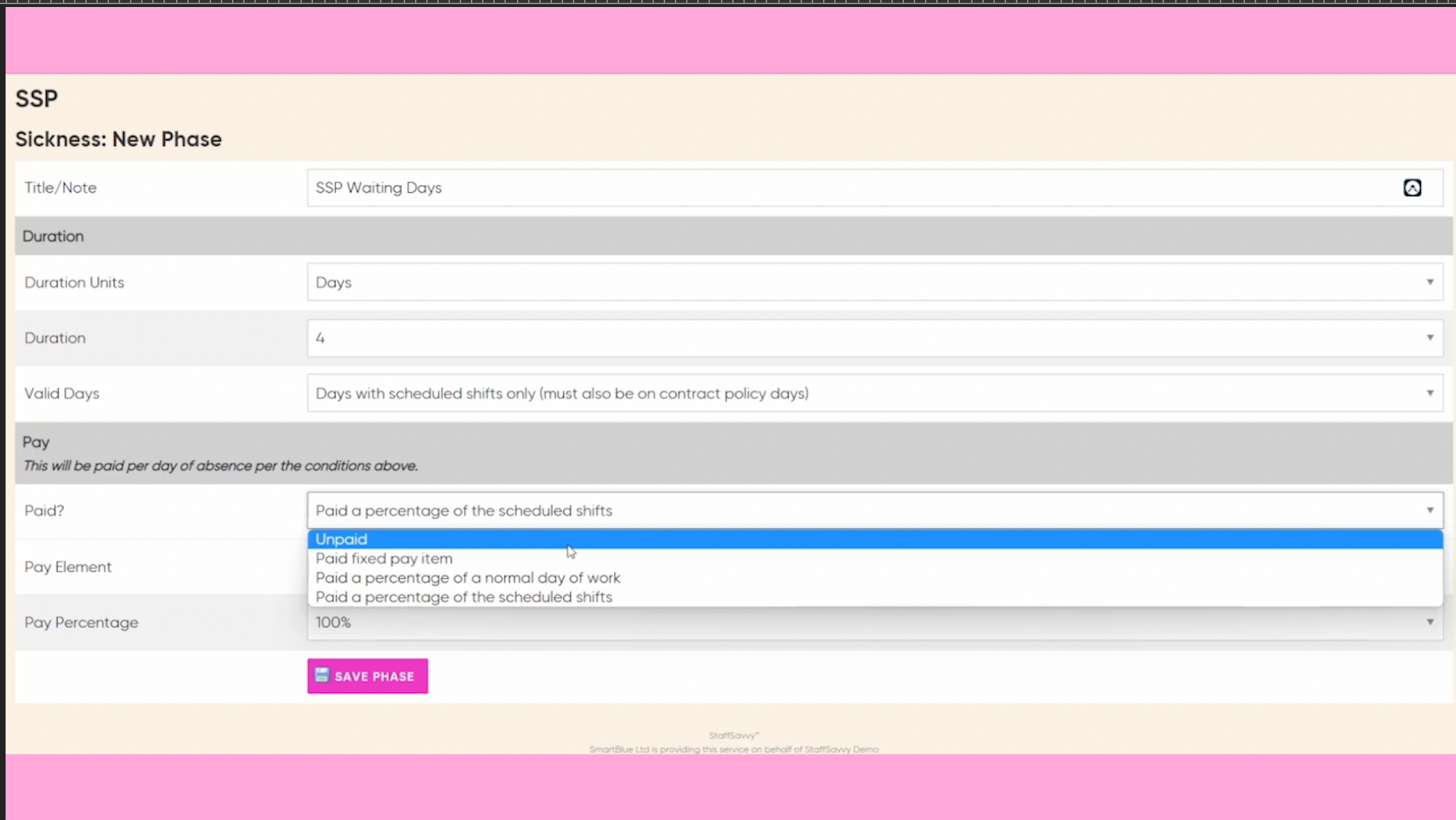 Step 4
Creating Additional
Phases within an Entitlement Level
Now also within this, as this is for SSP I need to create a second section where on the 'no minimum length service' phase once it hits 4 days unpaid, I then need it to switch to 28 weeks paid, as per SSP.
So it is the same entitlement level, keeping everything the same, you just need to add in another phase with the Add Phase button.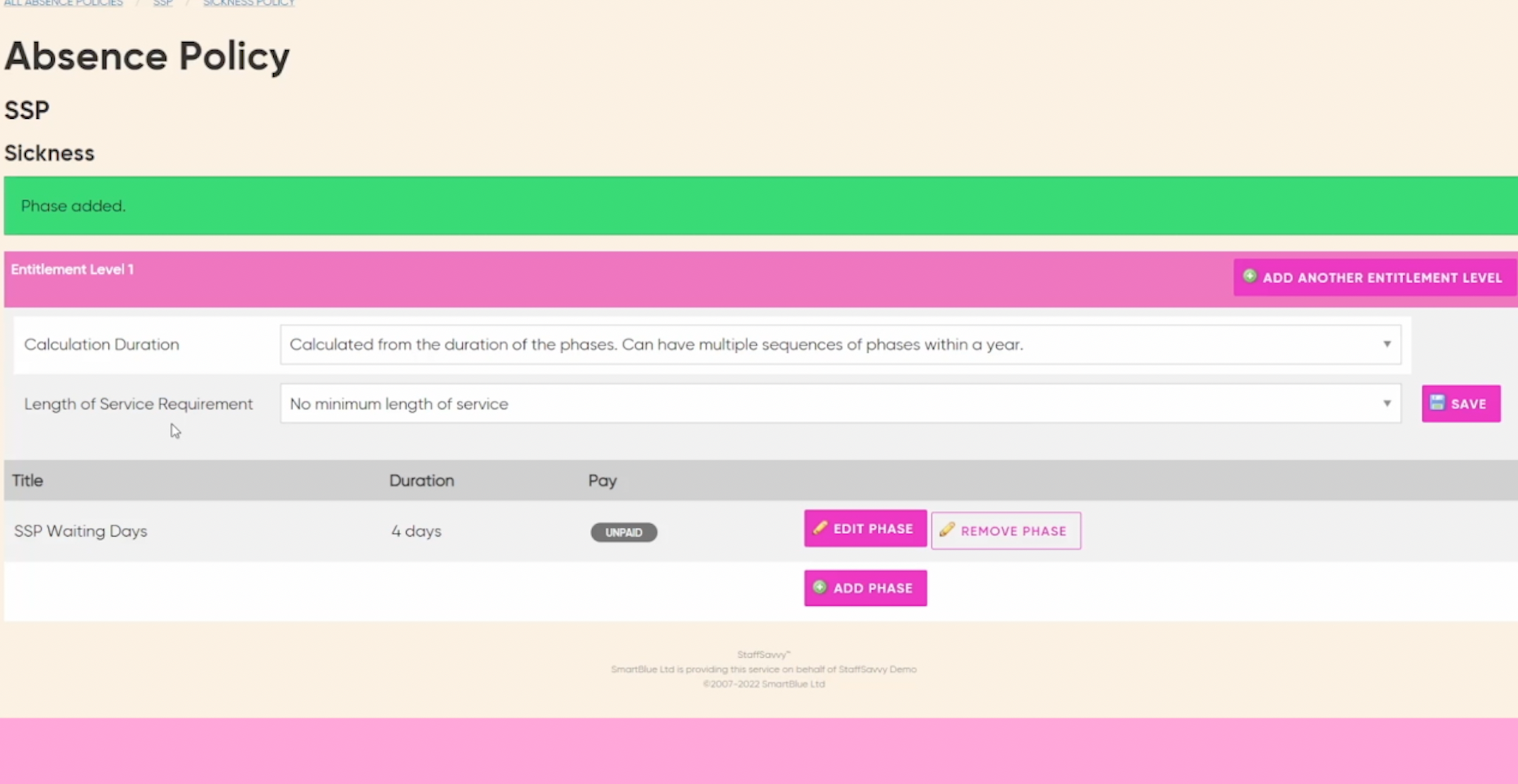 So in our example this is going to be called SSP paid, I'm going to put that in and its going to be weeks - specifically 28 weeks that people get paid. It's going to be on my days of scheduled shifts and then now we will specify pay for SSP.
So with SSP I've based mine on five days of work but your rate of pay might be different, £90.97 is what I've calculated mine as and then divided SSP weekly rate by 5, (which is five days). So I've set that up as a fixed pay item.
(If you want more information on that you can have a look at our Pay Items article for more information on that).
To create a fixed pay item, firstly, save this and go to create a pay item.
Step 5
Creating a Fixed Pay Item
So if we go through to pay > Pay Settings > Pay Elements > Create Pay Item. I'm just going to go set up an SSP pay payment. I'm going to have it as a fixed pay item, paid per item, because it will be £19.97 which is SSP weekly rate divided by 5. Then just save this here, and then back through to my under Absence and Breaks then back to my absence policy here - go into SSP and then edit and back into the policy and then I'm going into edit phase and change the payment.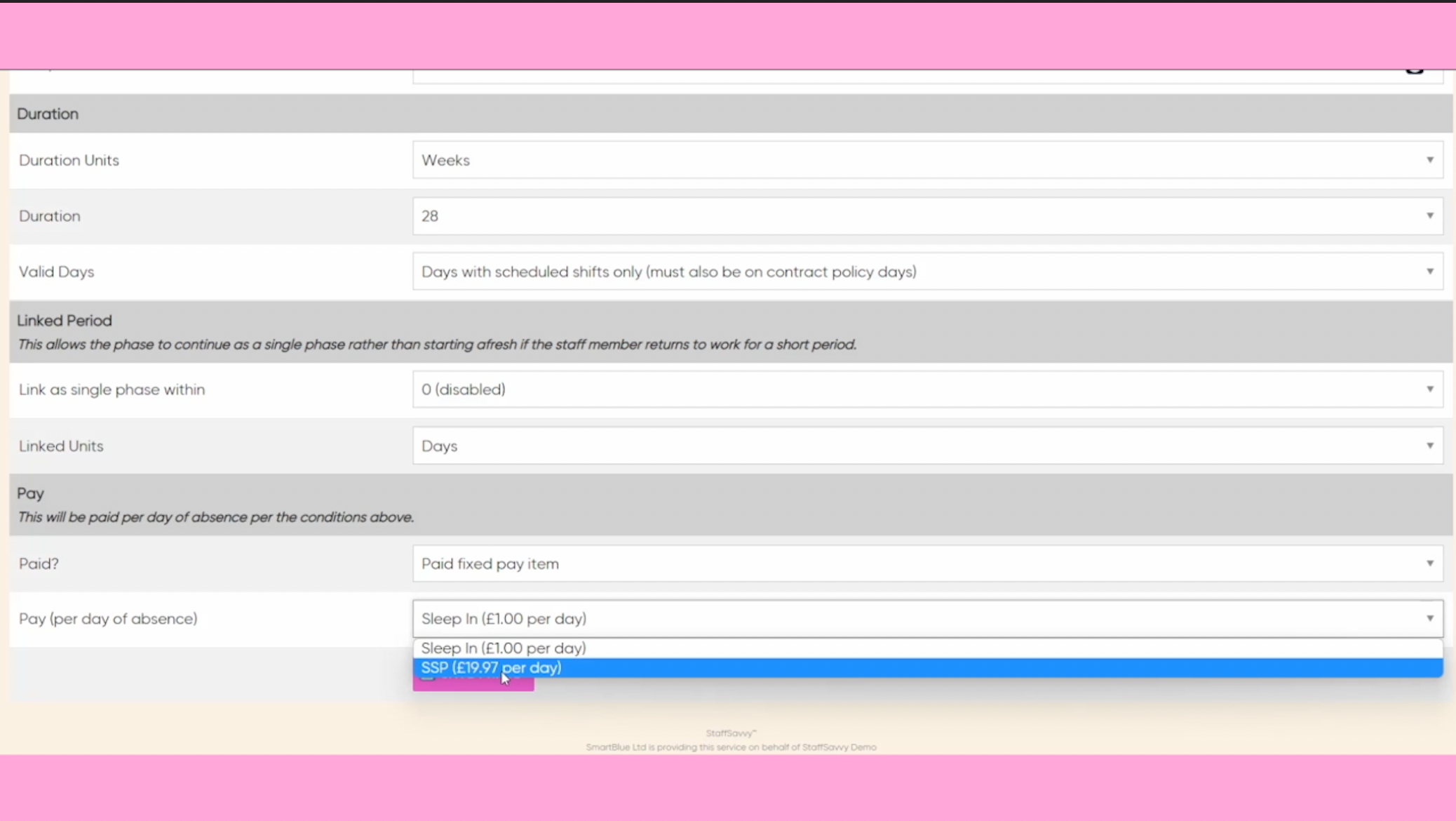 Then, I want to go in here and I want to do as 'paid a fixed item' and then here we have the SSP rate here. What that means is they'll be paid a fixed price per day for 28 days. Like I said this is five days so if you want different SSP rate you can experiment with that, you can divide the actual standard weekly rate by the number of days someone works and put that in as a payment input that in the policy. Once that's sorted you can save this.
Step 6
New Entitlement Level
So that's the first phase, now if you then wanted to add in another entitlement level, which might be necessary if there is a different company ruling, I would just add that in here.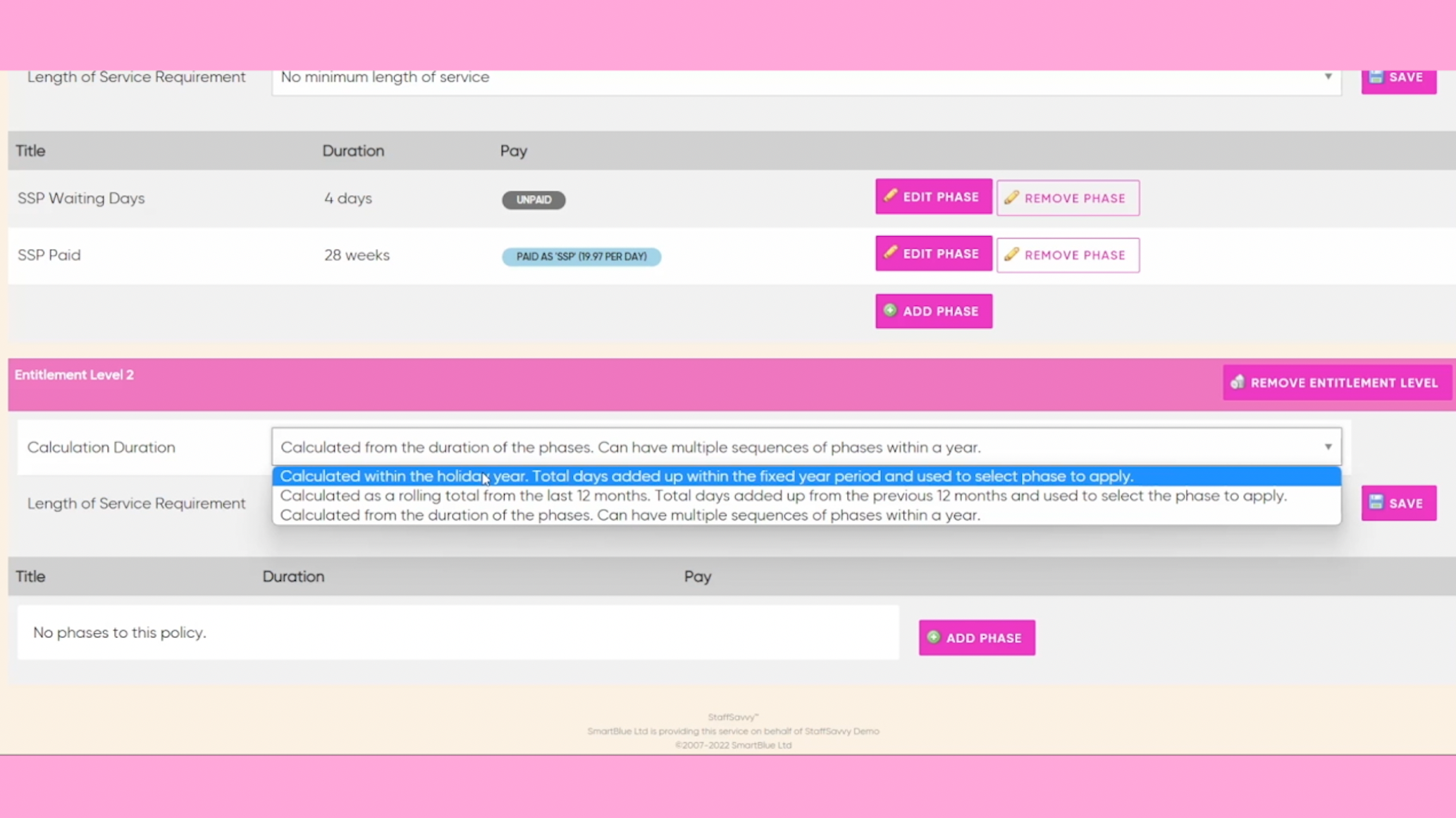 Again, you could maybe change the calculation duration, then just add the phase and save.
As an example, you could have it so that for your company policy, in the holiday year, you have the 'Length of Service' as one year of work, and then staff get half pay at 50% if there is an absence.
Alternatively, you might set it as it is set at 1 month half pay, and then put that they are able have it on expected work days, or paid a percentage of the scheduled shifts. You have a lot of different options.
So what will happen is once the threshold you've decided is met (i.e. one year of work) it will set this policy into action.
Step 7
Attaching an Absence Policy to your Contracts
Once the Absence Policy is set up you will want to attach it to your contracts. You can do by going to Pay > Contracts > Manage Contracts > Edit your Contract > Absences. Then under Absences are the current settings on your contract. To update the policy set, you would then go through and find the one you've been working on, such as 'SSP'.
Another thing to mention is when it says about the policy days make sure to tick all the days you have staff working. If you have them working every day make sure you have ticked off weekend days as well.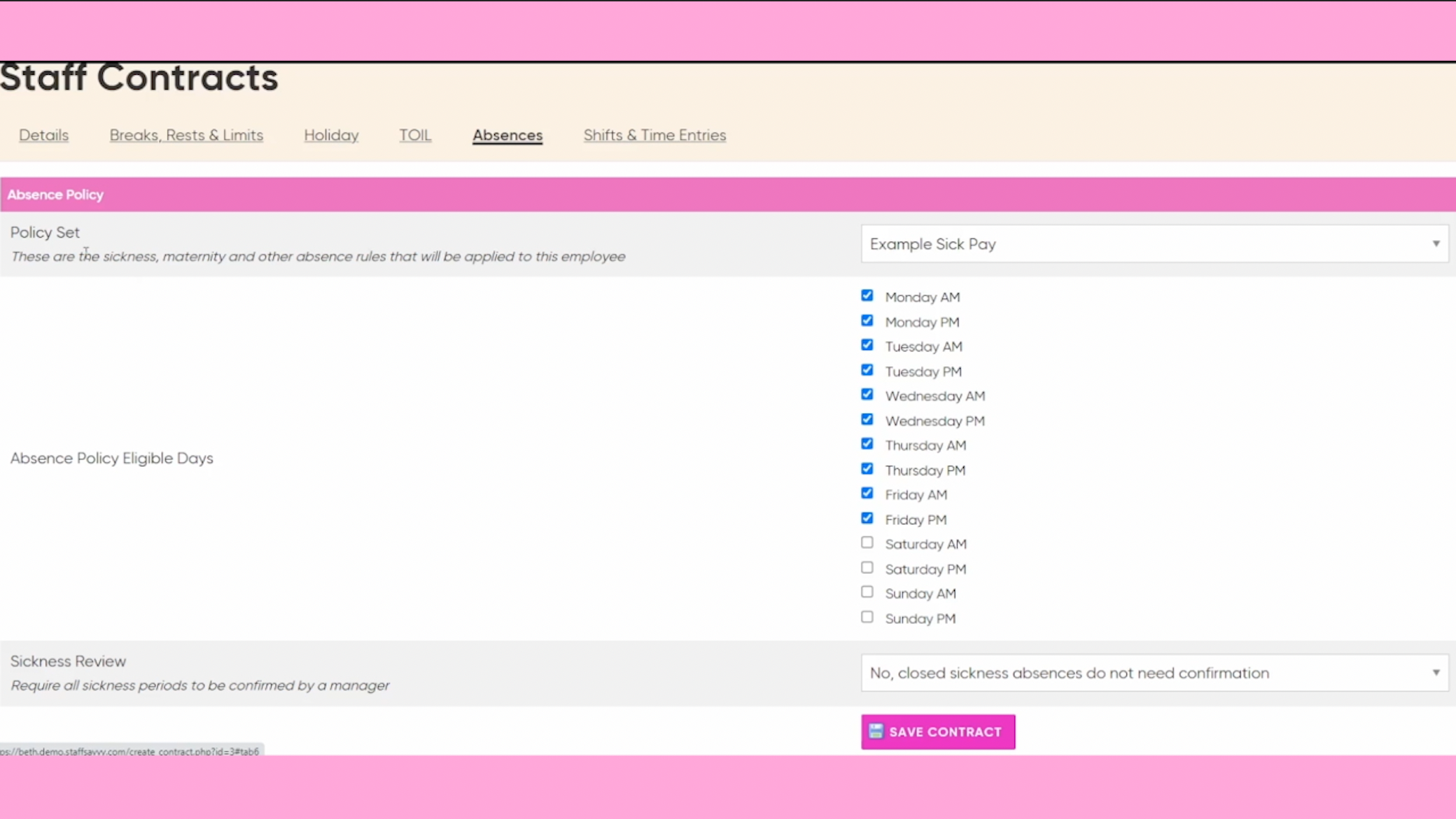 Additionally, you can decide here if you want to include a sickness review, where all sickness will need to be confirmed by a manager. What this means is if a staff member is ill it will come through with a notification. If you don't have this set to yes you're not going to get that notification on your dashboard, so there will not be a confirmation from a manager that the staff member is sick.
Once you've customised these options you can save your contract and it will all be under your absence policies.